Beso de Rumba
Welcome to Beso Beach Estepona, where relaxation meets rhythm, and excellence is blended with energy. We invite you to our special Beso de Rumba evenings, a magical journey into the heart of Spanish culture. With live flamenco and rumba music, exquisite cuisine, and a dreamy beach bar ambiance, your Friday nights will never be the same.
Instagram @besobeachestepona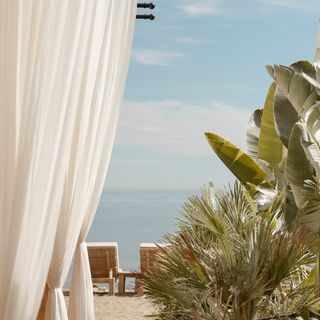 Address:
Playa El Padron, Km160, N-340, 29689 Estepona, Málaga, Spain.
More Information:
Their live flamenco and rumba performances are the soul of Beso de Rumba. Each Friday organised at Beso Beach Estepona during dinner time, running from 9 PM till 11 PM, a different artist takes the stage, captivating audiences with the soulful melodies and rhythms of Spain.
Enjoy a specially crafted dinner menu that celebrates the flavours of the Mediterranean, all while soaking in the breathtaking views of Estepona's coastline.Beso Beach is more than a beach bar; it's an oasis of enjoyment and relaxation. Embrace the good energy and let yourself be enchanted by our commitment to excellence.There have been moments at Beso Beach where the entire venue has come alive, guests waving their napkins in unison, swaying to the hypnotic rhythm of the songs. That's the magic of Beso de Rumba.
Join them at Beso Beach Estepona for a dining and musical experience that transcends the ordinary. Let the gentle waves of the sea and the soul-stirring music of Beso de Rumba wash over you, creating memories that linger long after the night has ended.
Celebrate the essence of Spain, enjoy the dance of flavours, and let your spirit soar with Beso de Rumba. We look forward to sharing this unforgettable experience with you at Beso Beach Estepona!