Beso de Luna
Experience the magic of a coastal evening like never before at Beso Beach Estepona. Introducing "Beso de Luna," a mesmerising event that unites culinary arts, music, and mystical attractions. Set to the tune of organic electronic beats and enriched with the flavours of Basque-Mediterranean cuisine, this extraordinary gathering takes place each month on the night of the full moon. Let the moonlit waves be the backdrop to an unforgettable dining and entertainment experience that starts at 8:30 PM and continues until 2 AM.
Instagram @besobeachestepona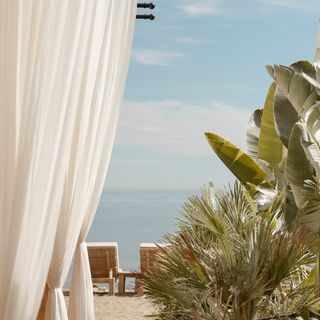 Address:
Playa El Padron, Km160, N-340, 29689 Estepona, Málaga, Spain.
More Information:
Savour a sumptuous a la carte dinner prepared with utmost finesse, showcasing the rich culinary heritage of Basque and Mediterranean regions. Enjoy each bite as the moon dances over the gentle waves, illuminating your plate with its soft silver glow.
Move to the rhythm of the night with our ever-changing lineup of renowned artists and DJs. These maestros will blend organic electronic music with the natural ambiance, creating a harmonious melody that resonates with the soul.
"Beso de Luna" is more than a dinner event; it's a multidimensional experience. Engage in thrilling performances that awaken your senses and add flair to the night. Seek wisdom from our tarot reader or adorn yourself with a unique piece of art from their talented tattoo artist, Tarot Reading.
Explore their special collection of minerals that not only add a mystical touch to the evening but might also become the perfect souvenir of a night filled with enchantment. Plus, many more surprises await, hidden like treasures, only to be discovered by those who dare to embark on this unique lunar adventure.
Beso Beach Estepona warmly invites you to join them in celebrating the full moon with "Beso de Luna." Be part of an exclusive event where the sea, moon, food, and music create an enchanting symphony. Book your table now and embrace the wonder of the night, where magic is not just in the tales but in the taste, sound, sight, and touch of "Beso de Luna."